Onshore Geotechnical Survey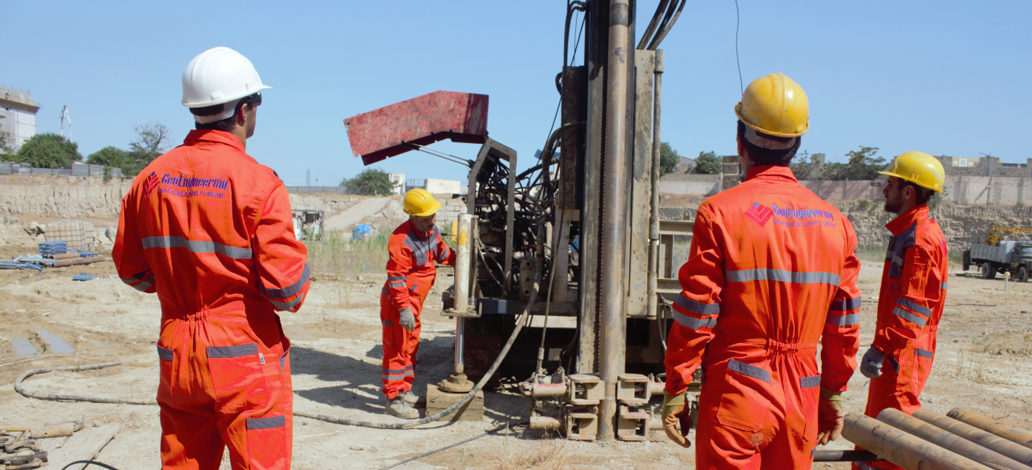 GeoEngineering Ltd offers a full geotechnical service ranging from site investigation, through to geotechnical consultancy. Our integrated specialist teams work in combination to provide enhanced geotechnical data about onshore and near shore geotechnical investigations. The purpose of geotechnical drilling is to obtain information about soil consistency and structure, groundwater level and recommendations for the technical project. Geotechnical investigation involves in-situ testing, subsoil sampling and laboratory testing of the soil samples.
In-situ tests for Geotechnical Investigations:
· Standard Penetration test
· Cone Penetration test
· Plate load test
· California Bearing Ratio test
· Dynamic Probing test
· Field density test
Download catalogue
---
Standard Penetration Test

GeoEngineering carries out Standard Penetration Tests (SPT) to provide an indication of the density and/or consistency of the ground and to obtain disturbed samples for visual inspection and laboratory testing and classification as per BS 1377: 1990.




· Fall of Hammer: 75 cm or 300 inches

· Weight of Hammer: 140 lbs or 63.5 kg

· Penetration: 45 cm or 100 blows

· Maximum Blow: 100 blows

Cone Penetration Test

GeoEngineering carries out Cone Penetration Tests (CPT) to acquire quasi continuous soil data during a geotechnical site investigation using a crawler-mounted and (or) track-mounted 20-ton cone apparatus. CPT soundings are performed using an electrical cone in accordance with EN ISO 22476-1, DIN 4094-4, NFP94-119 and ASTM D5778-95. All CPT soundings are performed until refusal or linear meters until 100 meters (300ft). As the cone goes into the ground, measurements are constantly sent back to the rig and recorded on computer. Measurements are taken at either 2.5 or 5 cm intervals during test.

Plate Load Test

GeoEngineering conducts Plate Load Test (PLT) to determine the ultimate bearing capacity of soil and the probable settlement under a given load accordance with ASTM D 1194 and (or) BS 1377-9: 1990.




| | |
| --- | --- |
| Plate Load Capacity | 50 Tons |
| Test Plate Square Size | 300 to 600 mm |
| Settlement Time | 15 Mins |
| Hydraulic Jack Capacity | 50 Tons |

Field Density Test

GeoEngineering conducts field density test (FDT) to determine in-place density and unit weight of soils using a sand cone apparatus in accordance with ASTM D 446-82, BS1377-44.

California Bearing Ratio Test

GeoEngineering carries out California Bearing Ratio (CBR) tests t to estimate the load bearing capacity and mechanical strength of highway subbases and subgrades in accordance with BS 1377-9: 1990 and (or) ASTM D1883 standards. The CBR test is carried out on soils with a maximum particle size of 20mm.

Dynamic Probing Test

GeoEngineering conducts Dynamic Probe Test (DPT) to determine the penetration resistance of soil based on EN 1997-1, EN 1997-2 and (or) ASTM D 4633-86 specifications. The test involves driving a solid steel or cast iron 90 degree cone into the bottom of the borehole. The cone is driven at a rate of between 15 to 30 blows per minute and the number of blows is recorded for each 200 mm increment of penetration.

Inclinometer Measurements

GeoEngineering conducts Inclinometer Measurements to determinate soil movements: landslides and embankments stability, dams, escarpments, excavations and works of support, accordance with ASTM D6230 – 13.